Product Features
Made of low density Polyethylene with water-based acrylic adhesive
Product Characteristics
Provide a fast, convenient, reliable way to clean shoe soles or other items before.
entering a clean and sanitary area.
Significantly reduce traffic-borne contaminants.
Numbered corner tabs for easy tracking of remaining sheets.
Easy sheet -to-sheet removal.
Non-transferring adhesive.
Smooth, effective surface is not damaged by shoes, booties or cart wheels.
Glossy and no bubble surface, no wrinkles.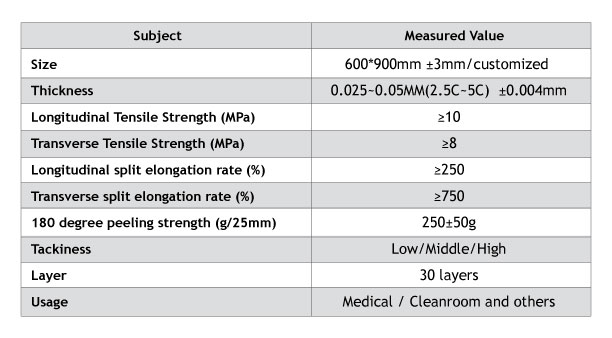 Market

Electrical & Electronic Industry

Hospital & Pharmaceutical

Childcare Centre
Application
Sticky Mat normally used in clean rooms premises, museums, laboratory, premium showrooms, hospitals, world premiere, premium hotels and childcare centers.
Disclaimer :
While we believe them to be reliable, the statements and information herein are only for general guidance and are not warrants or guarantees for accuracy and completeness. The user must, by test or otherwise, determine suitability for this purpose.